2nd Generation Moto E to launch in India on March 10 for Rs 6999
|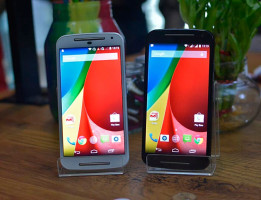 Motorola is all set to launch the next generation of Moto E smartphone in India on March 10, 2015 at Rs. 6,999. The Moto E 2105 model smartphone will be exclusively available via Flipkart.
Motorola decided to stick to the old cost as prevailing model of Moto E because it wants to race with Xiaomi and other Chinese brands, which are now selling their well-equipped smartphones at very cheap and affordable price.
Second generation of Moto E  touchscreen has been updated  from 4.3-inches to 4.5-inches, through the same 690 x 540p screen resolution
The 3G variant of the 2nd Gen Moto E is powered by 1.2GHz Qualcomm Snapdragon 200 32-bit processor and a 400MHz Adreno 302 GPU. Whereas, the LTE version has a powerful 1.2GHz Quad-core 64-bit Qualcomm Snapdragon 410 processor and a 400MHz Adreno 306 GPU. It comes with 8GB of internal storage space and 1GB of RAM for better user experience.
The dual front facing speakers on the existent Moto E have made an approach for a single one on the top. Sitting nearby it is a VGA camera, which is again another noticeable change present in the successor. Whereas, the rear cover of the latest iteration of Motorola handset is now non-removal, and the battery has been upgraded from 1,980mAh to 2,390mAh.
Other fresh specifications include Android Lollipop upon launch, double the ROM and a sturdier body. The 5 MP back snapper has been enhanced but, unfortunately, not with LED flash support.
Motorola also develops more colorful with the new Moto E handset. It has introduced some new vibrant covers that it calls 'Bands.' These bands are available in six different color options that include Golden Yellow, Turquoise, Blue, Raspberry, Purple and Red. The new model of Moto E also gets five "Grip shells" available in Golden Yellow, Turquoise, Charcoal, Blue and Raspberry.
Key Specification of Moto E 2nd Generation Smartphone
Body Dimension: 129.9 x 66.8 x 12.3 millimeters
Display: 4.5-inch IPS Touchscreen Display
Screen Resolution: 960 x 540p screen resolution
Processor:

1.2GHz Qualcomm Snapdragon 200 32-bit processor and a 400MHz Adreno 302 GPU (3G variant)
1.2GHz Quad-core 64-bit Qualcomm Snapdragon 410 processor and a 400MHz Adreno 306 GPU (4G LTE Variant)

RAM: 1GB of RAM
Camera: 5MP rear face camera and a VGA front-facing camera
Storage: 8GB inbuilt storage space (expandable upto 32GB via microSD card)
Operating System: Latest Android Lollipop