4G Huawei Honor 6 Plus will launch in India by the end of March
|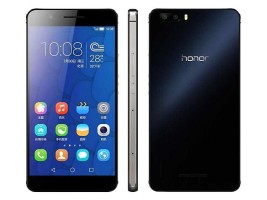 After the successful launch of Huawei Honor T1 tablet and Huawei Honor 6 smartphone in India, Huawei  has now decided to launch the next Honor device in India. When Huawei Honor 6 Plus was unveiled in the recently over MWC, during the launch one of the officials from Huawei had hinted that the device would be launched in India soon and Huawei has stayed true to its word. Following are the specs of the phone.
The smartphone key features are
large display of 5.5 inches with full HD resolution.
powered by 1.3 GHz octa-core processor
3 GB RAM.
8 MP camera on both the front
16 GB inbuilt storage
Wi-Fi and NFC
The only disappointing factor of the phone is that it will run on Android 4.4 KitKat OS, meanwhile other companies are offering the latest Android 5.0 Lollipop OS with their new phones. In the camera section the phone is a winner, because it has 8 MP camera on both the front and the rear end with LED flash on the rear camera.
The device has an internal storage of 16 GB and it has got a microSD card slot which can expand the storage capacity to a whopping 128 GB. Under connectivity, it offers the usual GPS, Bluetooth 4.0, Wi-Fi and NFC. The main highlight in connectivity is that the phone has an LTE support. All these facilities naturally require the phone to have a great battery life which it is expected to have considering the huge battery size of 3600 mAh. The user can buy either the dual-sim or the single-sim variant of the phone.
The phone has already begun its sales in China. According to Indian currency, the dual-sim phone approximately costs Rs 25000 and the single-sim phone costs Rs 20000 in the markets of China. It is expected that the prices of the phone will be similar to those in the Chinese markets. The exact date of availability is yet unknown but there are strong rumours which suggest that the phone will become available by the end of March.