Vivaldi A brand new web browser by Ex-Opera CEO
|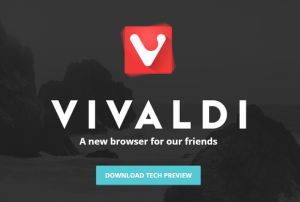 Vivaldi Technologies, a startup has just unveiled a new browser and it does look promising, something that may not pose much of a challenge to Chrome or Firefox, but has enough features to lure people away from Opera, the browser at the fifth place!
Vivaldi, as the new browser has been named by Jon S Von Tetzchner, co-founder and CEO of Vivaldi Technologies, is a significant step forward by the company, something that is being promoted as a full-featured PC browser.
It is to be noted that Jon was previously part of Opera, which was launched in 1996, and helped it become one of the notable browsers around.
During a recent chat with the scribes, Jon said that most companies are trying to make a limited browser, but clarified that his vision of a browser is entirely different. He pointed out that people want more from their browsers and that is where Vivaldi kicks in.
Vivaldi wanted to learn from Opera's missteps and that is exactly what it did by launching its own community site, just when Opera shut down its My Opera site.
While the browser market continues to be as tough as it used to, companies have started focusing more on browser speed, security and other features, all of which are the key qualities of a good browser. Hence, it needs to Download Vivaldi  browser here – Vivaldi